"Unnecessary" says ski jumping boss
It was On Thursday afternoon that the Norwegian Dyslexia Association would experience the enormous sense of freedom of parachuting. "Everyonewas very excited, but here we dedicated the tasks completely wrong"says the jumpleader. The task of packing new parachutes was given to Truls-Martin, who is perhaps Norway's greatest dyslexic. This resulted in several dyslexics jumping straight to death with a flat screen on their backs.
Excuse!
Truls-Martin, on the other hand, didn't have time to jump. He had gone back to Elkjøp to buy more flat screens when several of the dyslexics would also parachute. "Yes it's just to apologize, but I find that this is ultimately not my fault and it's almost Christmas"says Truls-Martin. But didn't you realize you couldn't jump with flat screens then? "I relate to what I read and on the note it said flat screen" insists Truls-Martin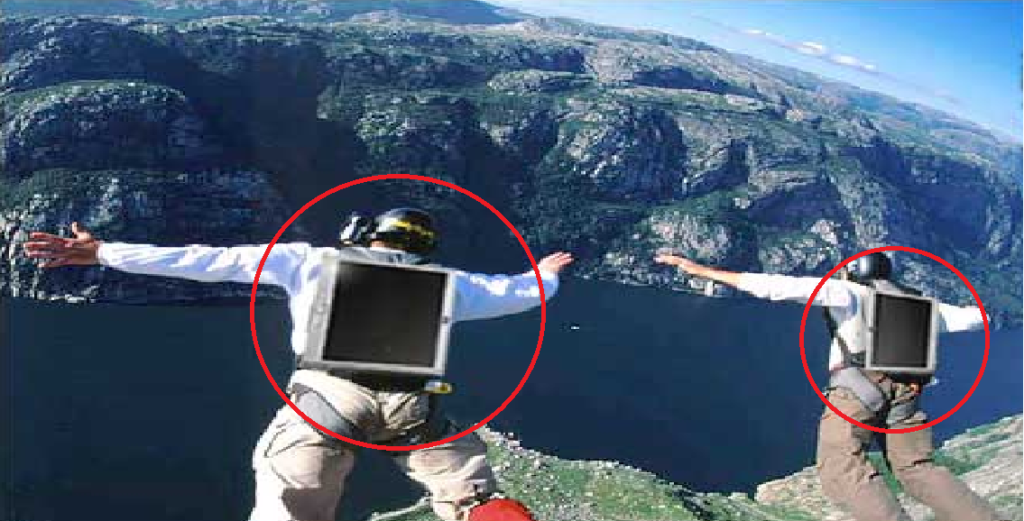 Flat-screen jumpers: It didn't work out for these flat-screen jumpers who jumped straight to the death with two brand new flat screens on their backs. Both flat screens had 3 Hdmi outputs and were purchased on offer.
Get a good note on the flat screens
Odd-Inge-Martin Hoppstad at Elkjøp says they have agreed to take all 13 flat screens in return. "Yes, but they can't get their money back. They get a voucher they can spend on all goods except offer goods and goods we sell a lot of" he says. He thinks the Norwegian Dyslexia Association is a few idiots who didn't realize something was wrong when they attached large flat screens on their backs and jumped outside. "Yes this is going to be too stupid. Condolences anyway" he concludes