Cyclists laughed and clapped
A motorist in Eastern Norway has been sentenced to six months in prison after spraying flushing fluid on a cyclist last summer. The motorist, a man in his 30s, explained that cyclists in the road had annoyed him so much over a long period of time that the cup in question was completely overflowing.
Didn't make it to the pole
Furthermore, it emerged that the motorist on the day in question was initially very stressed when he was due to reach the liquor store. "Itwas 1750 and I was going to make it to the pole," theman explained in court. Furthermore, he explained: "Half-ice forward I had to for several minutes root behind this cyclist who was clearly not going to make it to this day. It went ridiculously slow and the pavement where the cyclists should initially stay was clearly not good enough for this tightsman" ended the man's explanation with. The man clearly felt annoyed at cyclists which did not help the man's cause.

Very harsh punishment
The judge who himself was an avid cyclist sentenced the man to 9 months imprisonment of which 3 months was conditional. This means that the annoyed motorist must serve a full six months behind bars for splashing washer fluid on the cyclist. The man's lawyer states that the sentence is extremely harsh and that he will consult with his client when it comes to the appeal question.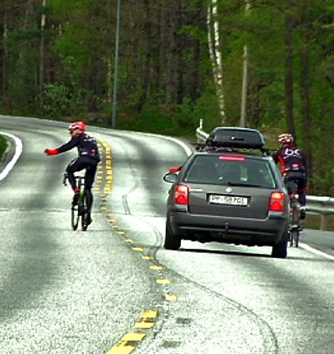 Cyclists clapped and laughed
Furthermore, something reminiscent of drama emerged when cyclists from various cycling clubs clapped and laughed when the man had his sentence read out. The offended cyclist was not gracious in his statement after the verdict; "JI hope this man sits even further. I also hope other motorists now treat cyclists with respect and patience" he concluded.
Eavisa later stated that the man will not appeal the sentence and will thus serve six months in prison within a short period of time. He's going to train himself so he can do Birken next year.